The Bingo Bango Boom game is for all you lovers of Bingo as this Fruit Machine is, as you can tell from its name, it is built around a Bingo type theme, so if you fancy mixing a game of Bingo into a slot machine then aha, this little beauty is the game for you, and it is the type of slot which you will only find in the gaming software of Microgaming Casinos.
ABOUT THE BINGO BANGO BOOM FRUIT MACHINE
The Bingo Bango Boom fruit machine has a feature trail and just one payline, numbers are super imposed onto the reel symbols and once these spin in they are added to the trail, once you have completed the trail you then enter the bonus round.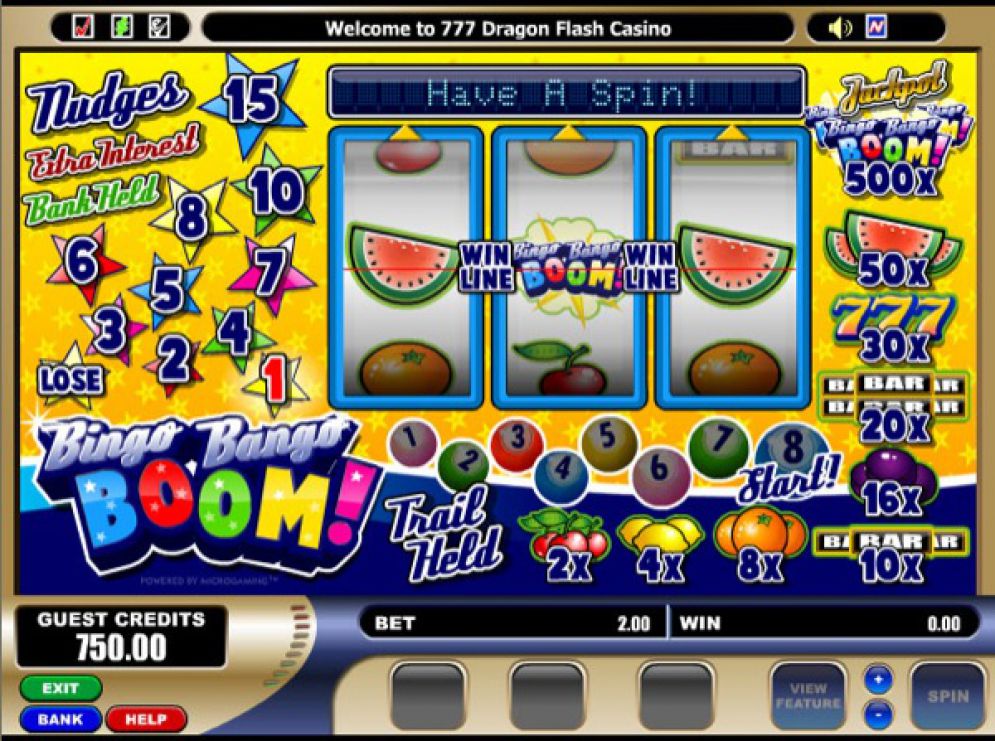 The usual Microgaming coin values are in play and these are: 0.10, 0.20, 0.25, 0.50, 1.00, 2.00, 5.00, 10.00. The top prize on this slots UK base game is a huge 500 times your stake and you can also be awarded up to 15 nudges which are given out at random.
BONUS FEATURES ON THE BINGO BANGO BOOM FRUIT MACHINE
Trail Held – As you accumulate numbers on the feature triggering trail they may hold in their current position and be rolled over to the next game, meaning you will have less numbers to spin in to trigger the bonus game, when the fruit machine does this the Trail Held light will illuminate. feature is random and holds your position on the Bingo Ball Number Trail for the next spin.
Bingo Bango Boom Bonus Game – Once you have accumulated a total of eight or more numbers on the trail you will then get to play in the bonus game, here you will be presented with a Bingo Card which has a total of 27 squares on it, a game of Bingo will then commence with numbers being drawn and added to the card, the aim is to match enough numbers to trigger one of eight different bonus games associated with the bonus round. Below are the eight different bonus games that can be triggered.
Nudge Mania – Triggering this bonus game will send you back to the base game and the nudge panel will flash randomly, you need to click on the stop button and once you do the lights will stop on one of the nudge numbers, and this will be the number of nudges you are given.
Cash Bingo – This game will see the Bingo drum draw out a Bingo ball, whichever number is drawn will be multiplier by your stake level and this will be credited to you as a cash amount. The Bingo drum will continue to fire out balls and credit you with this additional multiplier until such a time as a Bingo ball is drawn with the word Boom on it once this ball appears this bonus game is over.
Full House – During this bonus round the Bingo card will automatically fill with numbers and these numbers keep changing, you need to hit the stop button and this will lock into place a set of numbers, these numbers are added up and awarded to you as a multiplier value which is multiplied by your stake and this will be your bonus game win amount.
Bingo Bango Boom This bonus round is a normal game of Bingo, you will be allocated a set of numbers on the Bingo card and a game of Bingo will commence, you will be paid a multiplier amount based on whether you get one line, two lines or even a full house was the Bingo machine stops drawing out numbers the multiplier values are x50, x200 and x3000 respectively.
Spin a Win – This game will send you back to the base game and the reels will automatically spin in a guaranteed winning combination.
Balls Up – Here the Bingo drum will fire out Bingo balls you are faced with a decision and this is to either collect the ball which has been drawn, which is multiplied by your stake or to wait for a replacement ball to be drawn, eventually though you will run out of options and the last ball drawn will be your multiplier amount.
Eyes Down – When you get this bonus game you are sent back to the base game and the reels will begin to spin, you hit the stop button on a winning combination, this is a time sensitive bonus game and if you wait too long the reels will stop automatically.
House of Cards – This is another bonus game that sends you back to the base game and all of the outer positioned symbols on the reels begin to illuminate and flash simply hit the stop button and whichever symbols it stops on the slot will then spin in a winning combination of those reels. Superimposed on some of the reel symbols is the Bonus logo, once this appears on the payline in any positions the game will award you, once you have pressed the stop button one of several bonus features which could see you moving up the number trail.
Boost – Hit the stop button and you will move up the bonus trail to the position you managed to light up.
Skillshot – The number trail will light up in order and you need to use your skill to stop it on the bonus feature Start position and thus begin the bonus game.
Stoppa Here the positions on the number trail light up and you need to hit the stop button on the Start position in order to launch the bonus game.
Selector During this award groupings of numbers will appear on the number trail at random, once again you need to try and stop it on the Start position so that you are awarded the bonus game.
Nudges – This is a common bonus feature that most, if not all Fruit Machines have, it simply allows you to, once you have been awarded the nudges feature, move any reel downwards to hopefully help complete a winning combination. The number of these nudges you have been awarded will be displayed on the screen.
Bank Held – If you have any unused nudges or declined to use them then when you start the next game the Bank Hold light may illuminate indicating that those nudges are locked in place and can be used at the completion of the current spin you are making.
Nudge Gamble – Occasionally you may be offered the chance to increase any nudges that have been awarded, to do this you need to hit the gamble button in the hope you will increase your nudge total and not decrease them!
Extra Interest – This is a randomly awarded bonus that will increase the number of nudges you have saved up once activated this light will illuminate and award additional nudges for you to use.
Hold – Once you have finished a spin and are about to start another the Hold buttons may light up, when they do this means you can pick any or all of the reels to hold and this locks them into place for the next game.